Hark! Bespoke jewellery hoarders!
Kikix Accessories
is here to give you a piece of inidividuality. Hailing from Aussie with a strong background in fashion design, you'll be spoilt for choice everytime she puts up her string of items for sale.
You'd also be happy to know that her selling space is anti-bidding to give those working within a budget the chance to own a piece of
Kikix
that reflects themselves. Icing on the cake - Postage to Singapore is
free
!
Come June 24th (mark your calenders people!), she'll be @ the Scape Flea Market (behind Cineleisure) showcasing her wares and meeting up with her regular clientele. Oh yes, that is friendly isn't it? Here's a sneak peek of her somethingforeveryone collection!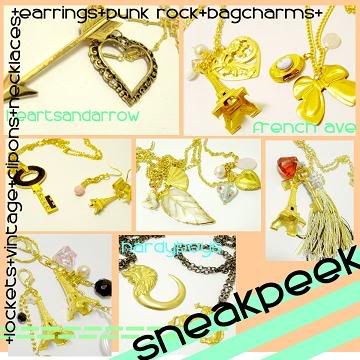 What we love about her work is the one-of-a-kind charms that are impossible to find on Arab St or anywhere in our little island. She imports most of them and acquires the more unique pieces like actual lockets and carousel ponies from her trips to France and the US.
Talk about getting an International treat, no?
We'll see you @ Scape Flea Market then.