Threadless *3-day* $10 SALE!
It's the $10 sale again at good ol'
Threadless
! Whoppee! I just ordered 5 tees for my sister and I after a long hiatus since my last Threadless shopping spree. However, I was abit disappointed that they sold out
'My Pet Human'
... there goes one lovely tee (REPRINT!).
*NEW* lovelies & *FREE* shipping @ Conversation Pieces
Conversation Pieces
has added new items this season and we're making bambi eyes at the
Puurfect Blouse by Original Los Angeles
. This blouse is lovely to show off your neckline and also uber-cute with lil' feline pals print. Totally sweet! Do start shopping as Conversation Pieces is offering
free shipping
from
15 June till 30 June
regardless of the amount spent and to any location in the world. How puurfect!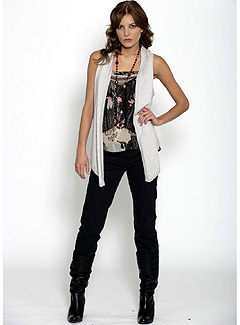 Skinny Jeans - Hip & Going Strong
"The term "fashion forward" isn't just a sassy form of alliteration; fashion is always looking forward (when it's not looking back) which explains why even though Fall 2006 is still months away, we are currently obsessed with the "it" look of the season - the skinny jean. The look manages to be a winning combination of sexy yet casual all at once, but it's popularity among the fashionably emaciated begs the question: are slim jeans only fitting for those who actually can fit into them? Here's the skinny on who can wear skinny jeans, how to choose a pair that satisfies your style, and how long skinny jean will stay on the racks.
'A trend isn't in one season and out the next," said Rau. 'Look how long the boot-cut jean lasted. The skinny jean is new right now, but it will be the jean of choice for a couple of years.'Goodbye boot-cut, relaxed fit, and - gasp - flared leg. It's time for jeans to get lean." (
source
)
Project Runway Season 3: "Fashionably Early"
While we're halfway through
Project Runway
Season 2, the Americans get their fashion fix of Season 3
four
months earlier when the season kicks off in July. Fashion designer, Michael Kors and Elle fashion director, Nina Garcia will reprise their roles as resident judges. Tip: Vera Wang might be making a guest appearance on the show! So what are we gonna get...? Another wedding gown competition? Ooh la la! (
source
)